Metene Clinical Digital Forehead Thermometer – Link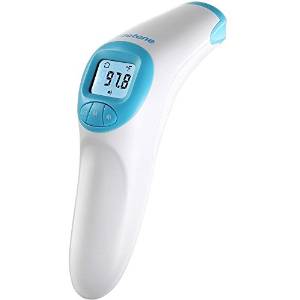 Drop The total to just $19.99, with code: WUIYKPQS
Faster Testing: Medical Grade Instant Digital Thermometer for kids, infants and adults in 1 SECOND, faster than conventional thermometers. Metene have refined a superior microchip and highly sensitive sensor which allows for highly accurate and rapid NO CONTACT scans of people as well as objects and rooms

Amazing Versatility : The thermometer enables you to measure room or Bottle temperature instantly with the press of a mode button. It is a perfect choice for Moms and Dads who want to keep a close eye on the body temperature of babies, children and loved ones

Easy to Read :Temperature will be displayed on the LCD and the LCD screen with clinically proven accuracy you can rely on.the back LCD display showing you what the temperature is ,even easily readable in the dark.