Hilton Fall 2016 Full List of Category Changes
Hilton hotels will be shuffling the hotel award categories on a few of their hotels. 21 hotel properties will be going up in category, which means it will cost more points to redeem for a free night, and 33 hotels will be decreasing in category, which means fewer points for an award redemption.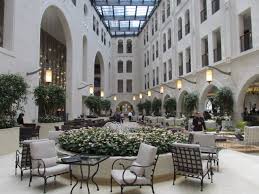 These changes take effect for hotel award bookings made as of next week, October 12, 2016.
Hilton Hotel brands include Hilton Hotels, Conrad, Waldorf Astoria, Hampton Inn, Hilton Garden Inn, Embassy Suites and others.
If your travel plans include one of the 21 hotels increasing in category, it may be worth it to book your award now, before award redemption's increase. Bookings can be made for stays up to a year out, and typically can be cancelled up to a few days prior to arrival, without penalty. Once the award changes take effect, if you make any date changes to your award bookings, you will be charged at the higher category rate.
A notable hotel on the list of hotels increasing in category, is the Waldorf Astoria Jerusalem, which is increasing from the current category 9, to their highest category level 10. This means that award bookings made as of October 12, will require 95,000 points per night. Award bookings made before then, will be charged the current Category 9 redemption rate, which is 80,000 points per night.
These award category changes will not affect the 2 free nights you get with the Citi Hilton HHonors Reserve Card.