Be the first to know! Follow DealsMaven.com on Twitter @DealsMaven to instantly get a tweet when a new deal is posted.
———————————————–
Update: The Tel Aviv – New York flights are now pricing out even lower, at $414 roundtrip for adults and from $302 for kids. The New York – Tel Aviv Flights are now at $559 roundtrip for adults and from $374 for kids.
—————————————–
You can currently snag flights from Tel Aviv Israel to New York City (JFK) for just $462 roundtrip!! Children ages 2-12 will be just $350 roundtrip!
Flights are on Transaero Airlines, with a short stop-over in Moscow.
You can also book roundtrip travel from New York to Tel Aviv for just $607 or children ages 2-12 for just $422!
Flights are bookable directly from Transaero Airlines at Transaero.us or Transaero.ru/en
You can switch to English in the top right hand corner of the site.
These fares are currently showing up on multiple dates, starting from October through the end of April of next year.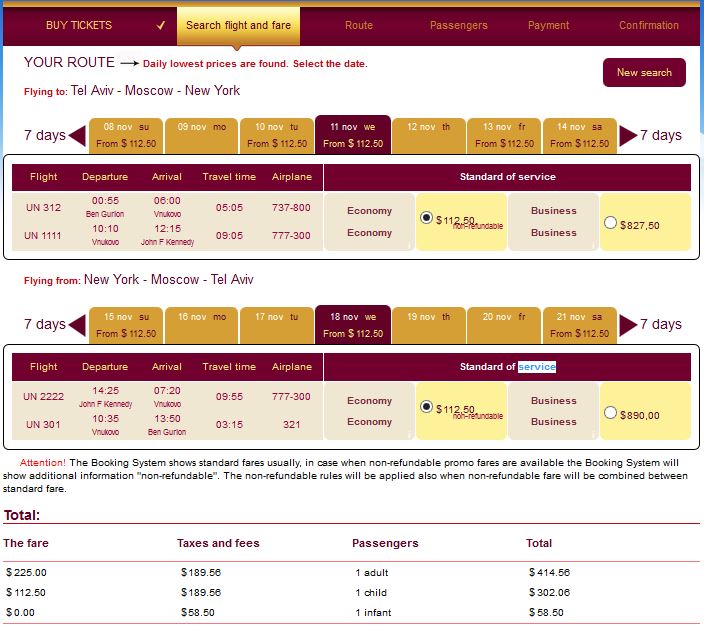 You can earn double points on this purchase with the Chase Sapphire Preferred Credit Card or triple points with the American Express Premier Rewards Gold Card. You can also get $625 towards airfare purchases, with the Citi ThankYou Premier Card.
All credit card offers can be viewed via the links in the credit cards tab. You can click on the "Credit Cards By Issuing Bank" link, to view all credit card offers offered by any specific credit card issuer. Just scroll down and click on the logo of the bank issuer of your choice.
Travel Insurance Links:
Hotel Booking Links:
Car Rental Links:
"Like" DealsMaven on Facebook (by clicking the above "like" button) and/or "follow" on Twitter to be be updated on other great freebies, deals and more!