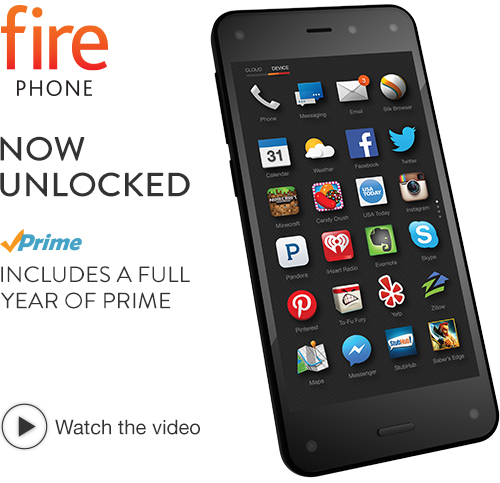 Unlocked Amazon Fire Phone, 32GB + Leather Case Bundle – Link
Amazon has these on sale bundled with a leather case, for just $169 w/free shipping!
Additionally, you'll also get a FREE year of Amazon prime! This benefit alone, is worth $99.
U.S. compatibility: All GSM networks including AT&T, T-Mobile, and more. Not compatible with CDMA networks such as Verizon and Sprint
Fire phone features nine bands of 4G-LTE, four bands of GSM for worldwide coverage, five bands of UMTS for better voice coverage, faster data speeds, and international roaming, plus 802.11ac support, Wi-Fi channel bonding, NFC and Bluetooth support.
Fire phone delivers up to 285 hours of standby time, up to 22 hours of talk time, up to 65 hours of audio playback, and up to 11 hours of video playback.
2.2GHz quad-core processor and 2GB RAM for ultra-fast app launch times and smooth multi-tasking
Bright 4.7″ HD display
13 MP camera with optical image stabilization, HDR, and LED flash
Includes unlimited free cloud storage for photos taken with Fire phone
Amazon-exclusive features: Firefly, Mayday, Dynamic Perspective
Over 33 million movies, TV shows, songs, books, apps, and more
Includes a full year of Prime benefits (a $99 value).