Be the first to know! Follow DealsMaven.com on Twitter @DealsMaven to instantly get a tweet when a new deal is posted.
———————————————–
There's a nice sale right now for round-trip flights from Tel Aviv Israel, to New York City. Tickets are on sale in the $500 range!
Flights are on El Al, British Airways, KLM, Virgin Atlantic or Air France, with stop-overs either in London or Paris.
Flights are bookable both on CheapOAir and Expedia. When booking through CheapOAir, if booking one ticket, use promo code: NY15 . If booking more than one ticket, use promo code: GROUP40
These fares are available for outbound travel on multiple dates from the beginning of January 2016 through mid April of 2016, and for the return segment, through May of 2016. If you do not find this fare on the dates you initially enter be sure to search alternate dates.
Note: Some of these flights require an airport change in London, from Heathrow Airport to Luton Airport, so if you do not want to change airports, be sure to search for a ticket that does not require an airport change.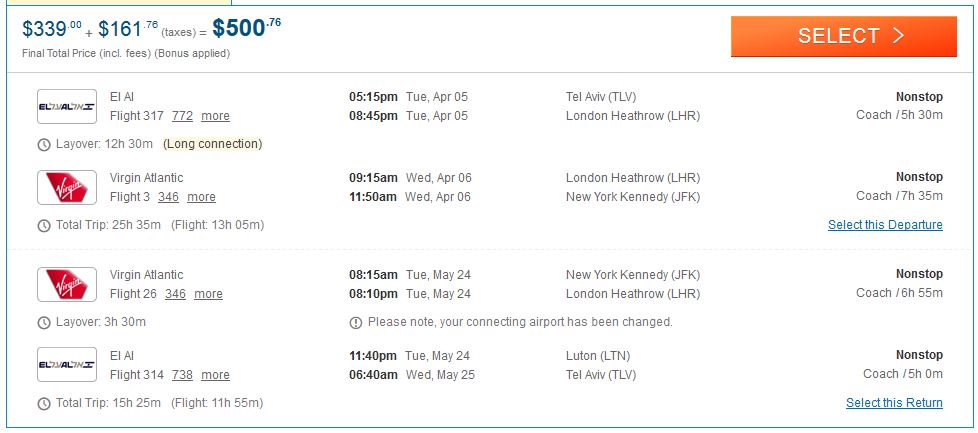 Hotels for your trip can be booked through the HotelsCombined search engine and also be sure to check reviews on TripAdvisor.
Travel Insurance Links:
Car Rental Links:
(Thanks Yitz, DeeZee, and Moish for the tip!)

"Like" DealsMaven on Facebook (by clicking the above "like" button) and/or "follow" on Twitter to be be updated on other great freebies, deals and more!