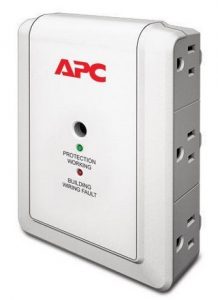 APC 6-Outlet Wall Surge Protector 1080 Joules, SurgeArrest Essential – Link
Clip the $2 coupon below the price.
1080 Joule Wall Mount Surge Protector

6 Total Power Surge Protector Outlets

When lightning and other conditions cause a power surge, be sure your electronics are protected with an APC Wall-Mounted Surge Protector.

Installation:Locate the screw hole in the center of the surge protector. Remove the screw from the wall outlet plate. Plug the unit into the wall outlet and secure it using the screw supplied in the package.