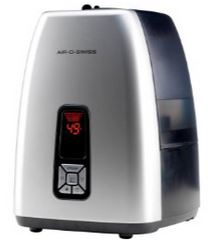 Air-O-Swiss Ultrasonic Humidifier – Link
This has currently dropped in price on Amazon to a record low of just $129.99 shipped!
This was selling for $200 recently, in fact all other merchants on Amazon have this in the $195-$200 range.
Note that this is currently out of stock, but you can still order now to lock in the lower price, and it'll ship soon when back in stock.
Humidifies the air in rooms up to 650 sq. ft. – 3.5 gallons / 24 hrs* – when used w/pre-heating to 176 degrees

AIR-O-SWISS ITC technology (Intelligent Temperature Compensation) automatically regulates the output to create the most comfortable relative humidity adjusted to the temperature in the room

Industrial strength titanium membrane surface, the quality of which guarantees fast dispersal of mist into that air and ensures long lasting use

Powerful and replaceable Demineralization cartridge that is treated with silver (Ag+ Ionic Silver Technology)

Large digital display of Hygrostat (humidify) level, Mist output levels, Timer settings, with Empty and Cleaning indicators