Wolfgang Puck Bistro Elite 19-piece Stainless Steel Cookware Set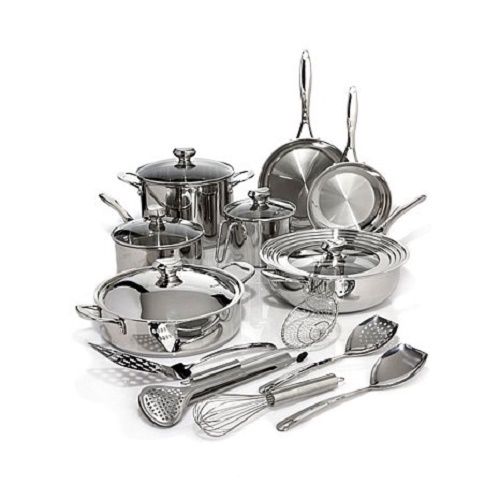 – Link  
Via eBay daily deals, this is on sale for only $119.99 w/ free shipping!
Note that this set is new/unused items that have been re-boxed. Items will be in like new condition.
Double-riveted to pans for superior strength and durability

Helps dissipate heat so handles stay cool under normal stovetop conditions

Finger grips provide a secure and comfortable grasp  

8qt stockpot with glass lid 

5qt essentials pan 

3qt saucepan with glass lid 

2qt cook-and-stir pan with glass colander lid 

11″ deep sauté pan with 10″ Diameter roasting rack and stainless lid

10″ omelet pan

8″ omelet pan 

12-1/2″ universal lid (fits 5qt essentials pan, sauté pan and both omelet pans)

13″ skimmer,

12-1/4″ slotted saute spoon,

12-1/4″ solid saute spoon,

11-1/2″ whisk,

14″ long turner,

13-3/4″ slotted tongs.

You will receive a 90 day warranty from the date of purchase.