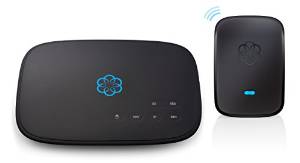 Update 2: Available again for today only from Woot for $89.99 + $5 shipping.
Update: Deal over.
Ooma Telo + Linx Wireless Accessory – Smart Home Phone Service With Remote Phone Jack – Link
Today only, Amazon has this on sale for just $89.99. This is it's lowest ever and was selling for $138 yesterday.
This Ooma device, is an Internet phone service that you can easily set up with your existing home phones. With Ooma, the basic service is free, though you do pay a few dollars in taxes, which varies depending on where you live. You can see how much taxes will be, by entering your zip code here.
Most phone numbers can be ported for a one-time $40 fee. Click here to double check if it will work with your current number, by entering the fist 6 digits.
That's Ooma Telo. Connect Ooma Telo to your high-speed Internet and regular home phone and get crystal-clear nationwide calling for free.
Includes Ooma Linx remote phone jack to wireless connect additional phones or fax machines to your Ooma Telo. Install your main phone in any convenient location even if your router and Ooma Telo are located in a remote part of the home."

#1 rated home phone service for overall satisfaction and value by a leading consumer research publication.

Ooma interacts with your favorite smart products to make your home safer and more convenient than ever before.

Includes Ooma Linx remote phone jack to wirelessly connect telephony devices to your Telo, or access a second line.

Includes nationwide calling, voicemail, caller-ID, call-waiting, 911 calling and text alerts.