Ooma Telo Air VoIP Phone with Wireless plus Bluetooth Adapter – Link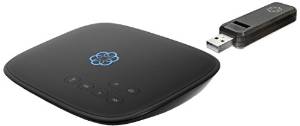 As a gold box deal, Amazon has this on sale today for just $89.99 w/free shipping!
This was selling for  $148 yesterday.
Includes Ooma Wireless + Bluetooth Adapter which enables your Ooma Telo to connect to the Internet wirelessly using your Wi-Fi network. The built-in Bluetooth function also links your mobile phone to your Telo

Free U.S. callingCall anyone, anywhere in the U.S. for free. Pay only applicable taxes and fees.

Low-cost international callingMake international calls starting at pennies per minute

Bundled features: voicemail, caller-ID, call-waitingEnjoy the convenience of caller-ID and call-waiting- at no extra charge.