Be the first to know! Follow DealsMaven.com on Twitter @DealsMaven to instantly get a tweet when a new deal is posted.
———————————————–
Update 2: Deal is over.
Update: This is still available on some dates, for example: November 2-November 10.
————————————-
Hurry, You can currently snag roundtrip flights from Philadelphia (PHL) to Tel Aviv Israel (TLV), for just $412 roundtrip!
Tickets are bookable on Cheapoair. Tickets are pricing at $417 but drop the total to $412 with code: NY15 if you are purchasing more than 1 ticket, use code: GROUP40
Saturday stay required. Flights are on El Al and US Airways with a stop-over in either Madrid or Barcelona.
Sample dates that are currently available on the outbound from Philadelphia:
September: 1st.
November: 1, 2, 3, 4, 8, 9, 10, 11, 15.
December: 1, 2, 3, 6, 7, 8, 9, 10, 13, 14, 15.
Sample dates that are currently available for the return segment, from Tel Aviv:
September: 7, 14.
November: 8, 10, 11, 15, 16, 17, 22, 23, 24, 25.
December: 6, 7, 8, 9, 13, 14, 15, 21, 22, 23.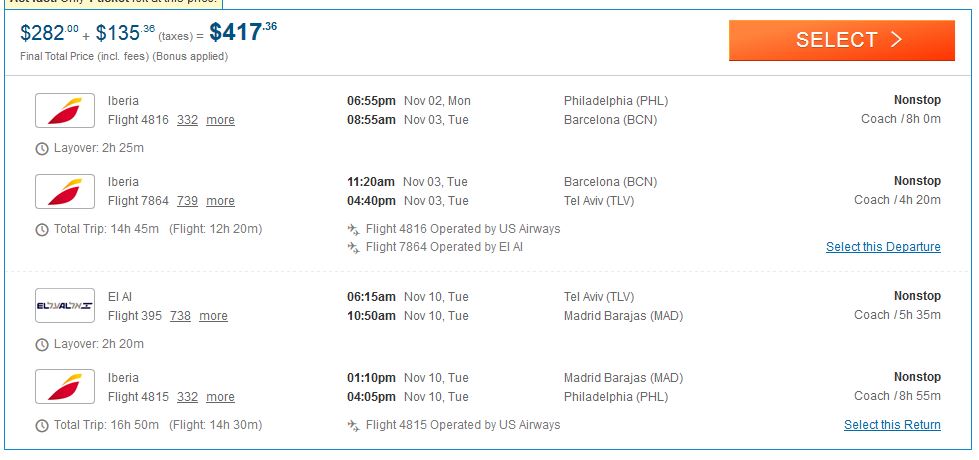 You can earn double points on this purchase with the Chase Sapphire Preferred Credit Card or triple points with the American Express Premier Rewards Gold Card.
All credit card offers can be viewed via the links in the credit cards tab. After clicking on the link to your category of credit cards, scroll down and click on "Show more Offers" to view additional credit card offers.
Travel Insurance Links:
Hotel Booking Links:
"Like" DealsMaven on Facebook (by clicking the above "like" button) and/or "follow" on Twitter to be be updated on other great freebies, deals and more!