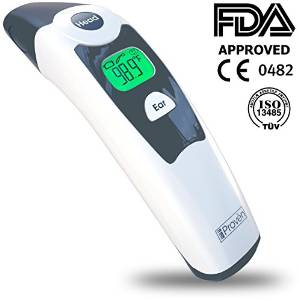 Medical Forehead and Ear Thermometer – the Authentic FDA Approved Professional Thermometer – Link
This is currently available via Amazon for just $35.55 shipped.
This has an awesome 4.9 star rating from over 1,250 reviews!
CONSISTENT AND RELIABLE temporal Forehead Thermometer with Ear Thermometer function (Dual Mode) – the easiest and most practical way to take a temperature.

UNMATCHED PERFORMANCE with REVOLUTIONIZED TECHNOLOGY – Clinically calibrated for medical use. Delivers temperature with Unfailing Accuracy and very fast.

PROFESSIONAL MEDICAL EQUIPMENT – Trusted by Pediatricians and Medical Professionals, this thermometer is the #1 CLINICALLY Tested and SECURE solution for All Ages.

HASSLE FREE – With just 2 buttons, Head and Ear, this electronic thermometer is very easy to use. The thermometer reads in 1 second and a loud enough beep will notify you it is done. It comes with fever alarm, it requires no covers and the last 20 readings can be easily recalled.