Update October 28: British Airways has announced that As of February 2, 2016, coach award bookings in the US, which are currently just 4,500 Avios, will be rising to 7,500 Avios. The higher tier coach awards, will remain the same with no change. One-way business-class awards will rise from the current 9,000 Avios to 15,000 Avios and first-class awards will go up from the current 18,000 Avios to 30,000 Avios. If you have future travel plans, you may want to book them before February 2, 2016.
—————————
For a limited time Chase has increased the bonus offer on the British Airways Visa Signature credit card.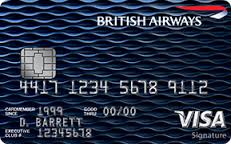 All credit card offers can be viewed via the credit cards tab on the top of the site.
You can now earn up to 100,000 bonus miles on this card!
With this offer, you will get 50,000 bonus British Airways Avios miles after you spend $2,000 within the first 3 months of card opening, another 25,000 bonus miles after you spend $10,000 within the first year, and another 25,000 bonus miles when you spend a total of $20,000 within the first year of card membership. 100,000 Avios miles is enough for 22 FREE short-haul flights, like NYC-Detroit or NYC-Toronto!
If you've applied for this card within the last 3 months, with the previous bonus offer, you can send a Secure Message to Chase to be matched to this new offer. You can click here to learn how to send a Secure Message.
British Airways Visa Signature credit card official bullet points:
50,000 bonus Avios after you spend $2,000 on purchases within the first 3 months of account opening.
Plus earn an additional 25,000 bonus Avios when you spend $10,000 on purchases for a total of 75,000 bonus Avios.
Plus earn another 25,000 bonus Avios when you spend a total of $20,000 on purchases within your first year for a total of 100,000 bonus Avios.
Every calendar year you make $30,000 in purchases on your British Airways Visa card, you'll earn a Travel Together Ticket good for two years.
In addition to the bonus Avios, you will also get 3 Avios for every $1 spent on British Airways purchases and 1 Avios for every $1 spent on all other purchases.
Pay no foreign transaction fees when you travel abroad.
Chip Technology allows you to use your card for chip based purchases in Europe & beyond, while still giving you the ability to use your card as you do today at home.
Cardholders get 10% off paid British Airways tickets with promo code: CARDOFFERU
British Airways:
British Airways, like American Airlines, is a member of the oneworld airline alliance.
This means that you can use your British Airways miles not only for travel on British Airways, but also on any of their oneworld and other non-oneworld partners.
The oneworld alliance is a group of airlines which includes: Air Berlin – Niki, American Airlines, British Airways, Cathay Pacific, Finnair, Iberia, Japan Airlines, LAN Airlines (including LAN Argentina, LAN Ecuador, LAN Express, LAN Peru), Malaysia Airlines, Qantas, Royal Jordanian,  S7, TAM Brazillian and Sri Lankan.
British Airways also has non-oneworld alliance partners such as Alaska Airlines, Aer Lingus and Meridiana.
Alaska, Aer Lingus and select LAN awards using Avios, can only be booked over the phone by calling British Airways, at 800-452-1201.
Avios:
British Airways "Avios" points, have both awesome advantages and also disadvantages. Where they are simply awesome, is when redeeming for "short-distance flights". Unlike other frequent flyer programs which will charge you a minimum of 20,000-25,000 points for a round trip domestic mileage ticket, regardless of the distance flown, BA Avios redemption's are distance based.  For instance a flight from NYC to Detroit or from NYC to Toronto on United Airlines, will be 25,000 miles round trip – if you get saver award availability, otherwise its 50,000 –,  but if you use British Airways Avios, for these exact flights on American Airlines, it'll be just 9,000 Avios points round trip!
The Mileage Chart:
Flights that are 1-650 miles = 4,500 Avios.
Flights that are 651-1,151 miles = 7,500 Avios.
Flights that are 1,151-2,000 miles = 10,000 Avios.
Flights that are 2,001-3,000 miles = 12,500 Avios.
Flights that are 3,001-4,000 miles = 20,000 Avios.
Flights that are 4,001-5,500 miles = 25,000 Avios.
Flights that are 5,501-6,500 miles = 30,000 Avios.
Flights that are 6,501-7,000 miles = 35,000 Avios.
Flights that are 7,001 miles or more = 50,000 Avios.
The prices above are for coach travel. For business class on flights that are 2,000 miles or less in distance, the redemption rate will be double the coach miles and triple for first class. For flights that are 2,000 miles and above in distance, business class will be triple the redemption rate and first class will be quadruple.
Note: British Airways considers most domestic US flights, being that they only have 2 cabins, to only have an economy and first class cabin and will thus cost quadruple the coach rate to fly in business class. If the flight in question has 3 cabins with a "real first class", the Avios needed will calculate correctly, and will thus be triple for business class as opposed to quadruple. Also, this "issue" is only for flights in the US not for international flights, so a flight for instance, NYC – Toronto in business should price correctly.
You can calculate the distance of your flight with the British Airways Avios Calculator or you can use the Great Circle Mapper.
Note: If the flight in question has a stopover, you will have to price each segment flown separately. Since British Airways doesn't fly domestic, you will need to redeem your points on American Airlines for domestic redemption's. Now for instance, If AA has a direct flight to your destination and its under 650 miles, then the total cost will be just 4,500 points. What if though, AA doesn't have a direct flight to your destination, and you need to take 2 AA flights to reach your destination? You will need to price each leg separately, and even though the total distance flown will be less than 650 miles you will end up paying 4,500 points x2 since there are 2 segments. This is different than the average US frequent flyer program which charges a flat redemption rate for tickets regardless of the stopovers,
Where Avios are generally a bad value (compared to other US frequent flyer programs) is redeeming them to use for most long-distance flights. British Airways Avios uses a distance based chart, so you can get some superb value on short destinations. The caveat is though, when redeeming on long-haul flights, they will charge a lot more miles then their peers.
Another drawback to Avios, is redeeming for award travel with high fuel surcharges. These include flights to or from London and most fights on British Airways itself (except within Europe).
For instance, an award ticket redeeming American Airlines AAdvantage miles from NYC – London will charge just $5.60 in taxes. On the other hand, if you are redeeming Avios, the total in taxes and fees will be a whopping $650 for the exact same flight!
The exceptions to the rule – where Avios does not request theses high fees are;
Flights within North America redeeming points on American Airlines/US Airways or Alaska Airlines
Redeeming points for flights on Air Berlin, Aer Lingus, LAN or Niki
Redeeming for flights on Qantas and are entirely within Australia
Redeeming for flights on JAL flights that are within Japan.
Flights that are within Europe
Additionally, Flights that are on Cathay Pacific have lower fees
Also, If you have an Iberia account with miles in it, you can transfer BA Avios into Iberia at a 1:1 ratio and save with less fuel surcharges for travel on Iberia.
Other benefits of Avios points:
There are no expedite or close-in fees for last minute award ticket bookings when booking with Avios.
You can book one-way tickets for half of the miles of a round-trip.
Award tickets can be cancelled within 24 hours of booking, for free, by calling British Airways at 800-452-1201. After 24 hours has passed you can redeposit miles for the lessor of $55 or the taxes you paid. On a domestic ticket there is just $5.60 of taxes for each leg. That means you'll pay just $5.60 to cancel a one-way domestic itinerary or $11.20 for a round-trip. Note: Date changes to a ticket cost $55, so if your ticket has less than $55 of taxes on it, its more worth it to cancel your ticket and rebook than to make a date change. – Cancellation and changes to award flights, must be done more than 24 hours before the time of departure. If done within 24 hours of departure, you will forfeit the Avios miles you used to pay for the ticket.
British Airways Avios expire after 36 months if there is no activity in your account. You can extend the life of your miles for another 36 months for $5.60 by booking a short-distance domestic award for 4,500 Avios points plus $5.60 and then simply cancelling it after 24 hours. This constitutes account activity which extends the life of your Avios.
British Airways only charges 10% extra miles for a lap child flying internationally and 0 extra miles domestically when adding the infant at the airport (if flying internationally, add them at time of booking!). This is true even when redeeming Avios for flights on American Airlines. Normally, American Airlines as well as other domestic carriers charge 10% of the full regular priced fare, even though you are booking with points. That can sometimes add up to a pretty penny.
You can pool all your combined Avios points together within a household into one account.
 It's easy to top-off your British Airways Avios account thanks to their partnerships with all of the transferable points programs. You can transfer Starwood Starpoints to British Airways at a 20K:25K ratio, American Express Membership Rewards or Chase Ultimate Rewards to British Airways Avios at a 1:1 ratio
With short-distance flights starting at just 4,500 Avios you can get a lot of free travel from your Avios.