Update: This offer is set to end today Tuesday, June 2nd. ————————————–
For a limited time – Chase has increased the sign-up bonus on the U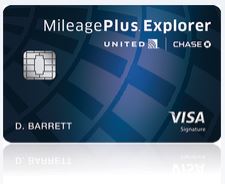 nited MileagePlus Explorer credit card which is issued by Chase bank from 30,000 bonus miles to now 50,000 miles!
In order to get the 50,000 mile sign-up bonus, you will need to spend $3,000 on the card, within the first 3 months after account opening.
You'll also get an additional 5,000 bonus miles when you add a free additional user card on your account. All in all, after the minimum spend and additional user card, you'll have 58,000 miles!
Official Benefits:
Limited Time Offer: Start with 50,000 bonus miles after you spend $3,000 in the first 3 months
Earn an additional 5,000 miles when you add an authorized user and make a purchase in the first three months
Check your first bag for free – save up to $100 per roundtrip
Enjoy priority boarding privileges and visit the United Club with two one-time-use passes every year
No foreign transaction fees
Earn double miles on tickets purchased from United, and 1 mile per $1 on all other purchases
Your miles don't expire as long as you're a Cardmember, with no limit to the number of miles you can earn
$0 intro annual fee for the first year, then $95
Other benefits of this card include:
Primary CDW insurance on car rentals
10,000 bonus miles when you spend $25,000 per year
Miles won't expire, as long as you have this card.
Most credit cards offer free collision insurance (CDW) when renting a vehicle, but their insurance is usually secondary to your regular insurance coverage. With this card your coverage is primary (as long as you decline the rental agency's CDW), which means that if you are in an accident, it won't affect your insurance rates and you won't need to file any paperwork with your insurance company.
United Award Chart: Some sample uses with United miles include a round trip ticket to Europe on United for 60,000 miles, a round trip to Israel for 85,000 miles. A Domestic round-trip is 25,000 miles, unless the flight is only up to 700 miles, in which case it's considered a short-haul and will only be 10,000 miles each way.
Of course there are other options as well. You can view United Airlines full award chart, here.
With United miles, you are allowed a free "stop-over" and a free "open jaw". An "open jaw" means entering one city and departing from another. A stop-over is only considered a stop-over if the stop is over 24 hours. A stop less than 24 hours will not use up your free stop-over.
With this in mind, you can potentially see 2 European countries for 60,000 miles round-trip if you utilize your free stop-over. For example, you can book a ticket to Switzerland via Paris, stop in Paris for a week, utilizing your free stop-over, and then continue onto Switzerland. You can also utilize your free open-jaw, by flying into Paris, and then continuing onto Switzerland from London.
Besides for redeeming your miles to fly on United Airlines itself, you can also redeem for flights on United Airlines partner airlines.
United has 36 partners, including: Adria Airlines, Aegean Airlines, Aer Lingus, Air Canada, Air China, Air India, Air New Zealand, ANA, Asiana Airlines, Austrian Airlines, Avianca Airlines, Azul Brazilian Airlines, Brussels Airlines, Copa Airlines, Croatia Airlines, Egyptair, Ethiopian Airlines, EVA Air, Germanwings, Great Lakes Airlines, Hawaiian Airlines, Island Air, Jet Airways, LOT Polish Airlines, Lufthansa, Scandinavian Airlines, Shenzhen Airlines, Silver Airways, Singapore Airlines, South African Airways, Swiss International Airlines, TAP Portugal, THAI and Turkish Airlines.
Bear in mind that some of these airlines will not show up when booking award travel on United.com and will have to be booked over the phone. These airlines include: Air India, Brussels Airlines (Brussles will occasionally show) Cape Air, Copa Airlines, Great Lakes Airlines, Jet Airways, Shenzhen and Singapore Airlines.
Award redemption's on partner airlines will generally cost more miles than when redeeming for travel on United itself. You can view United Airlines Partner chart, here and award chart, here.
United does not charge any fuel surcharges.
Also Available In A Business Version
This card is also available in a business version. The business version does not offer the 5,000 extra miles for an additional user card, but it does offer the same 50,000 miles and only requires $2,000 spend within 3 months.
To find the business offer: On the application landing page on the top right-hand side, click on the link "Are You A Business Owner" and you should see the link to the business version. Note: That if the 50,000 offer doesn't show, you may need to try in a different browser, in in-private browsing.
If you are denied for the Chase United MileagePlus Explorer card, you can call Chase Reconsideration at 1-888-245-0625