Update: You can get an additional $10 off any of the deals listed below that are $40 or more, with code: 10OFF40LOCAL
Below is the current Kosher Groupon deal roundup for New York, Miami Florida and Los Angeles California. Please note that some of these deals only have a limited time remaining for purchase!
— New York —
~ $22 for a Kosher Sandwich Meal for Two with Soup and Drinks (Up to $44 Value)at Kosher Deluxe in Midtown Manhattan
The Deal:
Two sandwiches
Two soup of the day
Two fountain drinks
~ Up to 55% Off Dinner at Talia's Steakhouse & Bar
Choose Between Two Options:
$65 for dinner for two with one appetizer, two entrees, and two sides (up to a $129 total value)
$130 for dinner for four with two appetizers, four entrees, four sides, and one bottle of wine (up to a $292 total value)
The menu includes appetizers (up to a $19 value) ranging from falafel platters to hickory-grilled salmon salad, as well as signature kosher entrees (up to a $48 value), including 16-ounce prime rib, slowly braised moroccan lamb tagine, and chicken marsala cooked in an mushroom-herb wine sauce. Sides (up to a $7 value) include mashed potatoes and sautéed spinach, and tables of four can choose between a bottle of french cabernet or californian pinot grigio (up to a $34 value).
~ Talia's Steakhouse Brunch for Two or Four at Talia's Steakhouse & Bar (Up to 60% Off)
The deal:
Two brunch entrees
Four mimosas, bloody marys, or screwdrivers- $55 for brunch for four (up to a $136 value) includes:
Four brunch entrees
Two bottles of Herzog Selection Blanc de Blanc Brut
~ Up to 52% Off Kosher Cuisine at Mendy's Restaurant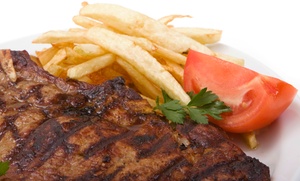 $55.50 for dinner for two (up to a $115.85 total value)  
One appetizer (up to a $11.95 value)
Two entrees (up to a $39.95 value each)
Two drinks (up to a $12 value each)
See the menu.
~ $15 for $30 Worth of Indian Food at Shalom Bombay
$15 for $30 Worth of Indian Food
The menu includes vegetable samosas ($6.95) and entrees such as chickpea chana masala ($15.95), marinated tandoori chicken baked in a clay oven ($16.95), and lamb biryani with basmati rice ($22.95).
~ Small or Large Football Game or Party Package at Schnitzel Express (Up to 34% Off)
Choose Between Two Options:
$109 for a small deli package ($165 total value)
4-foot deli or schnitzel hero
26-piece wings and chicken fingers
One box of fries
Choice of salad or coleslaw
$179 for a large deli package ($269 total value)
6-foot deli or schnitzel hero
52-piece wings and chicken fingers
Two boxes of fries
Choice of salad or coleslaw
~ Up to 57% Off Kosher Holiday Dinner or Online Grocery Shopping from Avi Glatt      
$15 for $25 worth of kosher groceries
The kosher holiday dinner includes:
10-pound turkey
1 quart of stuffing
1 quart of turkey gravy
2 quarts of mashed potatoes
1 quart of cranberry sauce
~ Executive Breakfasr Up to 20 or $15 for $30 Worth of Breakfast or Lunch from Mike N Honey (Up to 56% Off)
Choose from Four Options:
$15 for $30 worth of breakfast or lunch
$45 for one executive breakfast for 10 ($100 value)
$89 for one executive breakfast for 20 ($200 value)
$90 for one executive breakfast for 10 with smoked salmon ($180 value)
Executive breakfasts includes the following:
Bagels
Muffins/danishes
Cream cheese
Fruit
~ Two Large Kosher Pizzas or Three Groupons, Each Good for $10 Worth of Kosher Pizzas at Pizza By The Bay (Up to 63% Off)
Choose Between Two Options:
$15 for three Groupons, each good for $10 worth of kosher brick-oven pizza and pizzeria food (a $30 total value)
$20 for two large kosher brick-oven pizzas (a $54 value)
===========================
— Miami Florida —
~ Kosher Burgers, Mediterranean Cuisine, and Drinks at Beit Burger (Up to 48% Off)
Choose between two options:
$7.75 for $15 worth of Kosher burgers, Mediterranean cuisine, and drinks for two or more people
$23.25 for three Groupons, each good for $15 worth of kosher burgers, Mediterranean cuisine, and drinks for two or more people (a $45 total value)
Click to view the menu
========================
— Los Angeles California —
~ Lunch or Dinner at Got Kosher? (40% Off)
Choose Between Two Options:
$12 for $20 worth of kosher Mediterranean cuisine for lunch
$18 for $30 worth of kosher Mediterranean cuisine for dinner
~ $19 for $30 Worth of Middle Eastern Food, Plus 20% Off Catering Services, at The Hummus Bar & Grill
The Deal:
$19 for $30 worth of Middle Eastern cuisine
This Groupon also includes a 20% discount on catering services
See the website for the menu
~ One Dozen Assorted Mini Pastries or 2 Pounds of Assorted Cookie
s at Unique Pastry Bakery (Up to 56% Off)
Choose Between Two Options:
$12 for a dozen assorted mini pastries (up to $27 value)
$12 for 2 pounds of assorted cookies ($21.90 value)