Update: This offer as of now is still available, though there's know knowing as for how much longer… If you got this card in the past, you can churn this card by applying for it again.
—————————————–
The signup bonus on the US Airways Premier World MasterCard has just been raised to 50,000 bonus miles!! What's awesome about this offer, besides that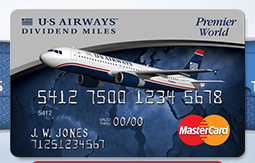 it's the largest ever for this card, it does not require any "minimum spend" such as $2,000 in 3 months etc;, rather you can spend as little as just $1 to get the full 50k bonus!

There are also some other great perks on this card that you can still take advantage of including:
First checked bag FREE on eligible bags for you and up to 4 companions on domestic US Airways operated flight.
One free companion certificate good for up to two guests on US Airways operated flights at $99 each, plus taxes and fees. (Certificate is sent to new cardholders 6-8 weeks after the first purchase is made on the card.)
Priority Boarding Zone 2 on US Airways operated flights.
FREE Club pass.
Redeem miles for award travel on US Airways and American Airlines booked through usairways.com or US Airways Reservations
Earn miles on every purchase with 2 miles for every $1 you spend on US Airways and American Airlines purchases and 1 mile for every $1 on purchases everywhere else
New! Receive a 25% savings on eligible US Airways and American Airlines in-flight purchases
Check in at the First Class counter for all of 2014.
0% introductory APR for 15 months
Please see terms and conditions for complete details
With this card, you also get to see your FREE real FICO score every month.
This card is also easily churnable, so even if you have had this card in the past, you can get it again with the 50k bonus!
Now, this is from the final chances to get this card, as it will soon transition into an American Airlines AAdvantage MasterCard. Once this transition happens, the card will NOT be available for new applicants via Barclays bank, which is it's current issuer – so this is the time to get the card, and more importantly, the 50k bonus!
The exact date this card will stop accepting new applicants is still unknown, but it can be any day now.  People who have the card will be able to keep it.
This card does come with an $89 annual fee which is not (officially) waived the first year (some have had luck getting the fee waived by simply requesting or by calling to cancel the card). Though $89 for 50,000 US Airways miles (not even taking into account the other perks) is more than worth it.
At some point next year, your USAirways miles will be combined with your American Airlines miles.
This card is issued by Barclays bank. Barclays generally only pulls from the Transunion credit bureau no matter of state you are located in, as opposed to Chase, Amex or Citi. That mean's that Chase, Amex or Citi will not see the credit pull from Barclays or vice versa. Though do bear in mind that Barclays will see all of your recently opened cards if they are over 30 days old even if they don't pull from Experian or Equifax. Another great thing about this is that if you are maxed applying for cards from Chase or Amex here's another great offer you can take advantage of. You can check  your real Transunion FICO score here.
You can read some more about this card and using USAirways miles, over here.
Bottom Line:
This Barclaycard US Airways Premier World MasterCard will be discontinued very soon and this could be from your last chances to apply for it.
Once this card transitions into the new Barclays American Airlines AAdvantage card, there will be some different benefits and only existing cardholders will get the new card.  It will NOT be open to new applicants.
If you applied for this card and were denied, you can call Barclays reconsideration at 866-408-4064.