American Express has released a new targeted offer for a $75 statement at Dell, when you use your enrolled American Express card to spend a minimum of $300+ in one or more transactions online at Dell.com by 03/25/2017.
Enrollment is limited and these offers tend to fill up rather quickly, so be sure to register soon.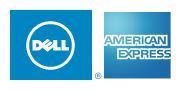 To check if you were targeted for this offer:
Go to American Express.com
Log-in to your account and Scroll down to where it says "Amex Offers & Benefits".
Check if you have this offer available.
If available, save the offer to your card by clicking on "Add to Card".
Note: Be sure to first check for these offers under all your American Express credit cards. If you have this under more than 1 card, first open a new tab in the same browser, for each of the cards that these offers are found under. Once you have these offers open on all available accounts, only then hit "Add to Card". This way you can claim this offer more than once, as normally, once you click "Add to Card" on one account, it invalidates the same offer on the other accounts and they will disappear from the other accounts.