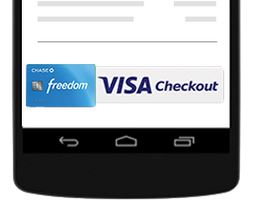 Similar to the recent offer in September on the Chase Sapphire card, you can now get a $15 statement credit on your Chase Freedom card after you spend $15 or more at any merchant and checkout via Visa Checkout. This offer is valid through 12/31/15.
Limit 1 statement credit per customer or card account. Allow 1 to 2 billing cycles from Visa Checkout purchase for the statement credit.
To signup:
Scroll down and click on "Enroll Now".
If you already have a Visa Checkout account, click on "Sign in".
This offer is valid at any site that accepts Visa Checkout. Some of the merchants include: Staples, Newegg, Gap, Gymboree, Orbitz, Zulily.  Click here for the full list.